On November 1, we mix an audience of creative minds with a line-up of some of the most inspiring change-makers we have written about on the pages of PSFK.com recently. For keynote speakers at PSFK CONFERENCE SAN FRANCISCO, we have master storytellers like Chase Jarvis and Scott Bedbury, community creators like the music producer Jermaine Durpi, designers shaping the tech of tomorrow including Amit Gapti and Marc Shillum. In addition we have the bio-hacker Neil Harbisson and Regina Ellis from the health & happiness organization JoyRx.
We also have some previous speakers from Airbnb.com, 826National, Neighborgoods and Wieden Kennedy giving updates since they last spoke. Other speakers include thought leaders such as Rohit Bhargava and Eric Corey Freed.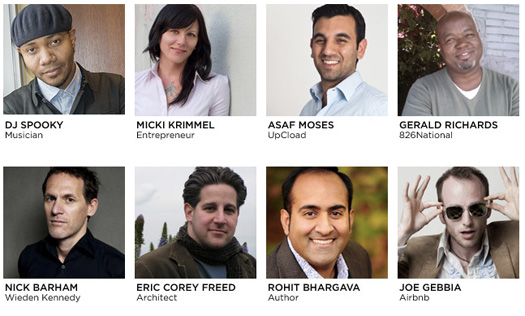 Held at the Sundance Kabuki Cinemas, the day promises to be a festival of strategy and ideas. To dream 'One Day', come join a community of design, advertising, digital and creative business professionals for PSFK CONFERENCE SAN FRANCISCO.
Tickets and further details here: PSFK CONFERENCE SAN FRANCISCO
(This event is likely to sell out)